Facebook Oculus launched this year may accelerate the development of the next computing platform. Microsoft, Sony, Google, Intel, and Nvidia all entered this new market, possibly including Apple. By 2020, VR and AR will become popular in consumer devices if manufacturers can solve broadband, content, design, processing performance, and cost issues. Games are the main application areas, followed by e-commerce, advertising, education and healthcare.

1, VR prosperity may not come soon

It may take 4 to 5 years for VR and AR helmets to become mainstream, and it is only a factor in determining when the inflection point will come. The ecosystem surrounding virtual content and services needs to evolve, and the creation and distribution should be seamless. Net speed, helmet design, graphic display performance, and the next round of game console cycles will be key catalysts. AR and VR devices will jointly push the new market forward, and eventually it is possible to replicate the success of PCs, smartphones, and tablets, with sales reaching the same level.

2, VR helmet annual revenue reached 21 billion US dollars, Sony, Facebook benefit

This year's VR helmet revenue may exceed $1 billion, reaching $21 billion in 2020, as Facebook, Sony, and HTC have launched consumer-grade helmets. Sony will be in the lead because it already has 36 million PS4 users. The Oculus Rift requires a powerful PC to support, and the PC costs more than $1,000. Gartner estimates that there are 200 million gaming PCs in the world, and the market is quite large. VR may stimulate game PC upgrades and drive sales of Facebook and Nvidia.

3, Facebook Oculus becomes the forerunner of the virtual platform

At least for the next three years, the game will be the core function of VR. Facebook Oculus Rift has an early ecosystem, which is its advantage, the platform can provide hardware, software and content. There are already 1,000 apps on the Oculus platform, and 100 games will be added in 2016. The biggest obstacle for Oculus is that there are too few PCs compatible with VR games. IDC estimates that only 15 million PCs can run VR.
4. Marketing with VR may increase consumer interest

In the next few years, marketing will use VR to attract consumers because of the better interaction of new technologies. McDonald's and Mercedes-Benz have begun to offer a marketing VR experience, which is done through 360-degree video.

5. What do consumers want from the virtual world? Shopping, movies, home office

In addition to games, consumers are also interested in other applications of VR. E-commerce may benefit from VR. Movie studios can use VR to attract more viewers, and some companies have already started. For example, Legendary Films and Disney have invested in Magic Leap and Jaunt. Although the virtual home office is ranked lower, it is likely to become the driving force for VR development in the later cycle.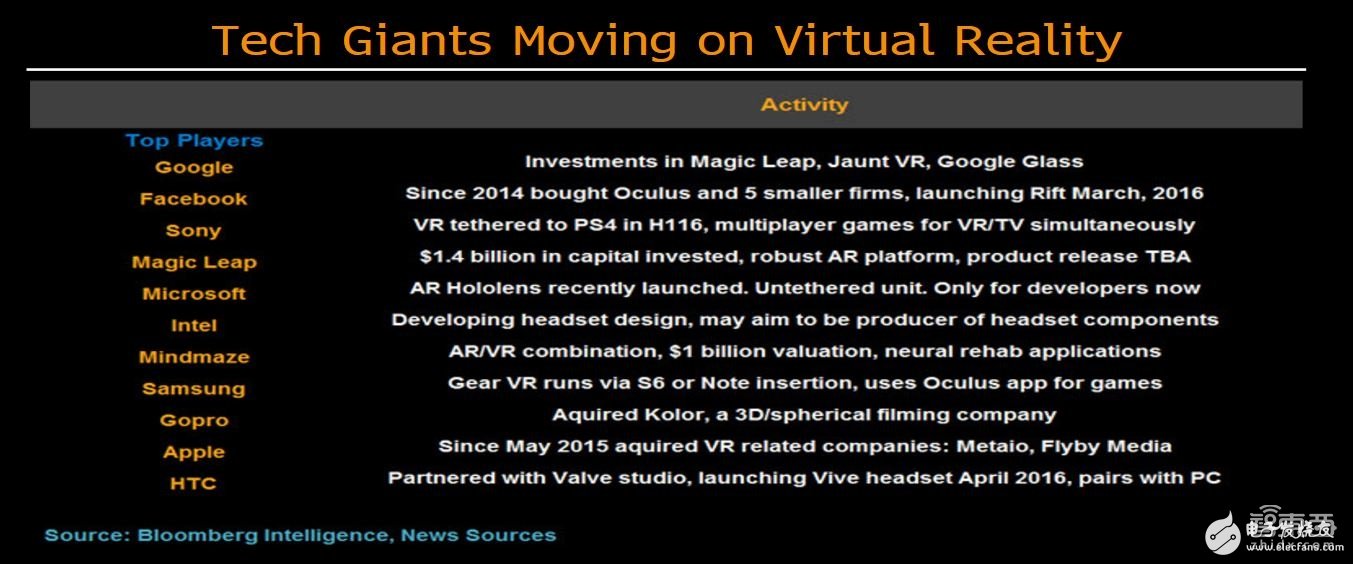 6, Magic Leap has the biggest bet in the VR field

Technology giants are investing in VR and AR because they believe the next dominant computing platform will be VR and AR. Facebook is a pioneer, and it spent $2 billion to acquire Oculus VR in 2014 and has since acquired five small VR companies. Magic Leap received a Google Alibaba investment of $4.5 billion. In the past six months, Apple has also quietly acquired two VR companies.

7, VR and AR integration may bring opportunities for Apple

The design of VR and AR devices may undergo many changes before the technology is truly popular. To really develop the market, it may take two formats to merge. Evolution faces certain obstacles, and Apple has the opportunity to launch innovative products in the new product market.

8, Facebook is ready to create an "Android" in the VR market

In the long run, Facebook's plan is to build an open VR platform. Before it missed the mobile operating system opportunity, it was preempted by Google's Android system. Facebook and Samsung are collaborating on Gear VR and are working with Microsoft on Xbox One and Windows 10. Facebook is building its own Oculus store, similar to the Apple App Store, except that the Oculus store is a VR content repository. Strategically, Facebook needs a lot of partners, and profits are mostly generated from the content, which can offset some of the hardware costs.

9, VR boom underestimated the reality of the platform is limited

When the media sizzles VR, it deliberately avoids a question: When does the function of the platform appear? In the next three years, the development of video games will be limited by the platform features. It will take at least five years for AR personal computing and applications (such as virtual social networks) to reach high-end features. Forecast time may change as product cycles have begun to highlight the limitations of hardware and ecosystem innovation.

10, VR growth may promote the growth of PC graphics, Nvidia benefits

According to Nvidia's estimates, only 13 million PCs worldwide can run VR content, while core gamers have more than 100 million. The gap in numbers means that gamers need to upgrade their PCs, a trend that is good for graphics card manufacturers. In the desktop discrete graphics processor market, Nvidia has an 81% share and AMD has 19%.

11, HD streaming media bandwidth constrains the development of VR video

In the next few years, if VR becomes a viable video platform, Wi-Fi bandwidth will have to be improved, and only in this way can VR meet the requirements of HD content. For example, Netflix's 4K streaming video recommended a network speed of 25Mbps, while North American Wi-Fi speed was only 17.4Mbps in 2015. It is important to increase the bandwidth, because watching VR will be disgusting when the speed is too low. High-quality, immersive video applications are critical to the growth of VR, which can drive the adoption of compatible devices.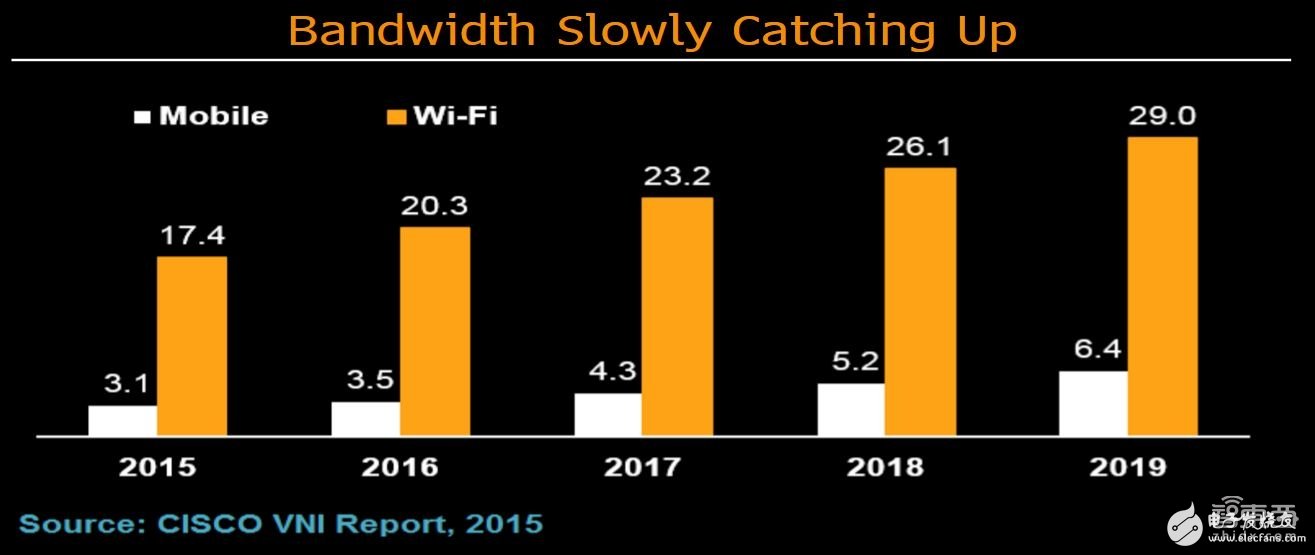 12, VR kit price is 4 times the average price of smart phones

Premium VR kits are expensive and may limit the growth of early shipments. Unlike laptops and smartphones, VR is not out of the box, because helmets need to be used with powerful PCs. The high-quality VR gaming suite includes helmets, platforms and controllers at an average cost of approximately $1,450. Excluding the motion controller, the VR kit is priced at approximately twice the average notebook price in 2016.

24V Dc Controller,48V Dc Controller,Dual Channel Controller,Dual Channel Dc Controller

Jinan Keya Electron Science And Technology Co., Ltd. , https://www.keyaservo.com